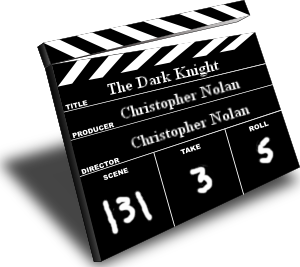 My Experience as a movie Extra in "
The Dark Knight

"!
On August 23rd, 2007 I was an extra in the movie "The Dark Knight" - the 2nd Batman movie, which had the working title "Rory's First Kiss".


I had applied to be an Extra near the beginning of August. On Monday, August 20th, I got a call from the casting agency (RFKCasting), asking me if I was still interested in being an extra for the movie. After telling them I was, I had to go through a bit of drama with my cell phone battery choosing to die at that moment and having to play a bit of phone tag to re-establish contact. Catherine was my contact at RFKCasting.com, and I was able to get all of the details after a few minutes.
I was told that my role was going to be a bar patron, during happy hour. I had to wear business-style clothing, and have a trench coat and a briefcase with me.
Even with the role being part of the background, there was a lot of prep to be done. I had to get the clothes I was going to use together and the other items. I took the day before the shoot off to do this, and it turned out to be more involved than I expected, but obviously it was done.
On Wednesday, the day before my shoot, I called a phone number provided to me by RFKCasting to get my call time and location. Originally it was set for 7am at 10 W. Jackson. About an hour later, Tom from RFK called me back an informed me that instead of being a bar patron, I would be in a restaurant scene, and my call time was moved to 6 am.
Getting everything done, I didn't get to bed until 12:30, and fell asleep sometime around 1 am. I somehow managed to get up at 4 am when my alarm went off, and after showering and getting ready, I left my house at 4:40 am. The drive in was uneventful and traffic was light, so I arrived at the parking lot at 5:40, and walked to the holding area in about 10 minutes.
After registering and getting my paperwork to fill out (a confidentiality agreement and the pay voucher), I settled in. There were already about 50 to 75 people present, and it was immediately obvious that many of them were used to this and have done it before. Hearing snippets of conversations, I determined that a good number of the people there had YEARS of experience doing this under their belts.
During my waiting time, there were numerous call-ups of groups of actors such as Chechens, bodyguards and gangsters (also referred to as Maronis). The people comprising these roles certainly looked the part, and it almost seemed as if they were the elite of the group. There were also numerous "cops" and "detectives" in costume in the waiting area as well. These guys I would see in action later.
At approximately 7:30 am, those of use assigned to the restaurant and bar roles (which were virtually identical in the sense of costuming and such) were sent to the costume department. I was told to bring dark clothing and to dress for winter. Wardrobe wasnt really satisfied with what I had. They ended up choosing the navy pants and sweater that I brought, along with a black shirt and tie. Here was the start of the toughest part of the day - the heat.
I returned to the holding area after getting dressed, and immediately began perspiring profusely. I brought some paper-towels, and there were napkins in the area, so I was able to dry my face and neck to a certain extent. Fanning myself with my paperwork helped as well, but there was only so much I could do. Ultimately, I perspired throughout the entire day and felt like I lost a quart of water.
After a short wait, the Production Assistant had us restaurant extras line up, and wardrobe came by to look us over. They were looking for a specific appearance, since the restaurant scene was going to be up-scale. Since I wasn't wearing a jacket, I was sent back to being a bar patron.
A while after I returned and was waiting for call-up, the Production Assistant (Busby) came in and asked if there were any "boys" with a size 44 waist. I raised my hand, and after getting her attention, she said "You're a cop", and sent me to wardrobe again. They were able to get me into a uniform (and here I thought I was going to escape the "heat" - nope, I ended up being put in a thick police jacket as part of the costume. This provided some relief as I was able to take the jacket off when not needed. Unfortunately, they didn't have my shoe size available in the boots needed. I finished getting costumed (hems done, badges placed on the jacket, etc.), and eventually they had boots for me. But, I had to go over to the set, which was at Berghoff's restaurant, to find Melissa who had my boots.
The instructions I was given didn't quite do the job. I got outside, and walked back and forth trying to find the location. I was out in the public at this point, and was beginning to attract attention. I eventually asked 2 police officers (ironically, while dressed as a Gotham City cop myself), and they pointed me in the right direction. I got to the front of the restaurant, and Melissa was waving for me to come over. She told me that they only had size 12 (I wear size 13). I tried one on, and surprisingly, it fit! After getting both on, she took my shoes and told me to go into the set and find out what they wanted me to do. I walked to the entrance of the set, and saw Gary Oldman standing outside speaking to someone. One of the security people that was manning the doors opened the door for me after recognizing me in costume (this was totally cool - no hassle given at all!). I entered the restaurant, and saw several "cops" standing there, and the director was setting up the scene. The scene was a meeting in the restaurant between Maroni, and someone else (who later turned out to be Gordon - they were only doing Maroni's part at this time), and he was asking the other person "You're not going to embarrass me in front of my friends, are you?", at which point the cops rushed in to make the arrest. I asked the production assistant what I should do, as Melissa sent me in here. He got on the radio, and walked away leaving me standing there. I watched 2 takes of the scene that was being shot, and increasingly got the feeling that I shouldn't be there. When he didn't return after a few minutes, I went back to the extra holding area and said to the costumer that sent me initially "Please tell me you wanted me to come back here..." She said she did.
A short time later, we "cops" were sent to props for the gun belts. We had to go out into the public to do so. This was interesting as well. Here was a line of 10 of us, all in uniform, walking single-file about two blocks away to a tent that was setup with all of the belts. We formed 2 lines, and chatted among ourselves while each person was being fitted, two at a time. When it was my turn to be fitted, they discovered (after spending several minutes searching and me waiting off to the side) that there were no gun belts in my size available - at all. The propmaster suggested that he could fit me as a detective (gun holster on my own belt, with a badge on a chain around the neck), but the production assistant who was escorting us (Tyler), said he'd leave me as is for now. After everyone else was fitted, we returned to the Extra holding area. After more waiting around and the need for the cops to get ready to go to set, the other PA informed someone else via radio that she had to get belts from two other players for another 2 cops waiting to be propped, and that there was no prop available for one other (namely, me). Shortly after this, she informed me that I should go and change back into what I was wearing before, because she couldn't put me on the set without the props. About this time, they were also lining up the bar and restaurant patrons, so I had to be expeditious in changing back into my "bar" clothing.


I went back to wardrobe, asked them if they could press my clothing (it had been put into my garment bag rather hurriedly, when I had to get dressed as a cop earlier), and they remembered that I had the clothing that they didn't think would work well on set. So, they looked for and found a shirt that fit me, and that went with the tie I had. Once I had the shirt, they had pressed my pants and sweater, so I quickly changed clothes and returned to the holding area. Shortly afterward, we were informed that we'd be going to the set soon.
The PA began picking groups of extras, 20 to a group. I had been waiting in the high-traffic area but had moved toward the back to some tables and was sitting there waiting, along with a few others. The PA started picking people first from the high-traffic area, and walked through back toward us. She did this once, then twice, and then a third time, with none of us in the back being picked. At that point, I moved forward to about half-way between the areas, and on her fourth run through, she picked me about half-way into the final group of 20. I'm not sure if everyone got picked after that or not.
As each group was chosen, they followed another PA to the set (Which was the bar at Berghoff's, and were herded in to the front of the bar). Since I had been chosen so late, I didn't think I was going to be in a good position for the shot (not knowing what it was), so I resigned myself to being just part of the crowd. When we got to the bar, the director was already giving instructions, and I came in at the point of him saying "when you hear the words 'If you don't want to play by my rules, get out now!' , and your birthday is in January or February, then put down your drink and leave". I tried to find a place to stand where I could put my drink down (a fake plastic brown beer bottle with water in it, which was handed to me after I got in), and finally found a spot by the bar. We did a rehearsal run, and then began shooting. The director would yell "Rolling!", and then all of us in the bar (80 or so people) would begin pantomiming conversation. Shortly after we started rolling, a recording of The Joker's voice

(or so we thought at the time - it obviously wasn't when the movie came out)

would come up, and we would stop "talking" and begin listening. We were instructed to look toward the TV set that was in the corner of the bar, but instead of looking directly at the TV set, we were to look at a red X that was put above the set. The director told us that from the angle that the camera was positioned at (below and to the side of where the TV set was), it would appear that we were actually looking at the TV. The message on the recording from the Joker said that the town was his, and if we could play by the rules, we could stay. But, if we didn't want to play by the rules, we were to get out now. At that point, as instructed, I put my beer down on the bar, turned and began walking out the doors. I had been positioned only about 10 feet from the doors, so if the camera was concentrating in that area, I'll be on it. On the first take, the paper they had up covering the lights to diffuse them by me came down, so that shot was gone. A total of five takes were done, and after the 3rd one, the director instructed us to exit with more urgency (but not panic, so no one would get hurt). As we exited each time, another PA was sitting outside the building and would yell "cut!" when enough of us had left. After the five takes, we were taken back to the holding area.
Lunch was being served when we returned, and so we were able to eat right away. After lunch was almost over, the PA came in and said that we would be going back in about 10 to 15 minutes to shoot another angle at the bar, this time the camera would be at the back of the bar (hence closer to my position). A few minutes later, she came back and said that the director changed his mind and that they would be filming the monitors instead. Then a short time after that, she came back again and said that they needed some street actors, to make up a group of onlookers. She said she'd only take those who could put on jackets or otherwise change their look from the bar scene in less than a minute. I had my trenchcoat with me, and hadn't worn it in the bar, so at the suggestion of a veteran extra whom I had been speaking with after lunch (an older lady who had been an extra for 20 years or so), I volunteered and mentioned that I had had my trenchcoat with me in the bar but hadn't worn it. The PA pointed at me and announced "One" and then she proceeded to pick out another group of 20 or so to go outside. We left a few minutes later, and were corralled up in an area just outside and to the right of Berghoff's. Two of the cops that I had been with in the earlier group were there, to hold us back. Across the street, outside of the Walgreens and along the entire block, there was a small crowd of people watching, taking pictures, etc. Between this and being watched as I was dressed as a cop, I got a tiny view of how the regular actors are exposed to the public. We were given our instructions (which we mistakenly interpreted as pushing against the cops, as if we were a mob, while all of the gangsters were being taken out of the building in handcuffs. Some forcibly.), and the rehearsal then actual rolling began. After the 3rd take, the director came over and told us not to push, but to merely be curious. We were to only want to see what was happening, not try to attack the gangsters. We agreed, and two more takes were done and then the scene was wrapped. Between takes, several racks of equipment were moved through us periodically.
Shortly after we returned to the holding area, the weather started turning very bad (there was even a tornado warning issued), and the PA came in shortly afterward and informed us that we were most likely wrapped for the day, although she didn't know how long it would be. Some of the extras caught some sleep (on the floor), others were reading and I wandered around, looking out of the windows and watching the weather. The tone of the area had changed - you could feel that everyone was winding down. We were completely wrapped and dismissed between 5:30 pm and 6 pm. I had to go back to costuming and return the shirt I had (and get my pay voucher back). Once this was done, I got in the line that was winding down the escalators to get the pay vouchers signed. After it was signed by the PA (there was a wait of about 15 minutes for the line to progress), I walked back to my car and left. Fortunately, the rain abated by that time.
This is a picture that Rory_bat took (he was one of the people in the crowd watching from across the street) while Maroni and his "guys" were being led out and arrested.
You can barely see the back of my head.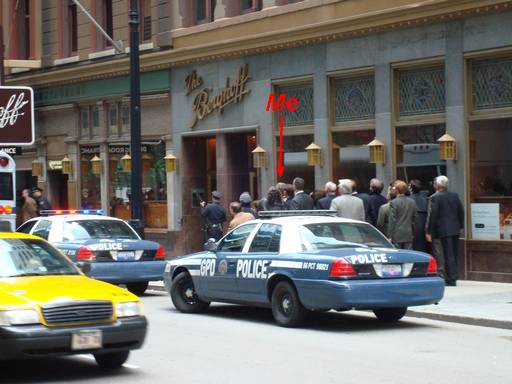 Later, in the viral marketing campaign, a still photo that was taken by the unit photographer on the set showed up in Episode 4 of "Gotham Tonight", about mid-way in the episode. This particular photo is a shot of Gordon, a bald detective, and some other uniformed police officers. But most surprisingly to me, *I* am also in the photo, in the background over Gordon's shoulder. Here's the photo as captured from the Gotham Tonight video: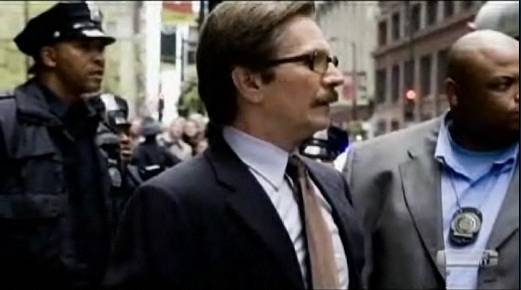 Image copyright 2008 Warner Bros. Entertainment
Update, July 15

th

, 2008:

I got to see the movie early (as part of the viral marketing campaign - free tickets to IMAX). The arrest scene above wasn't in the movie - it was modified as a montage. While the scene I shot had the mobsters led out to a bus, in the movie they were put into numerous police cars instead of the Corrections Bus and other crowds were seen but not the one I was in. The only part of the arrest scene that I was involved in above flashes by for a second or less at the end of the arrests, where you can see Gordon and the bald detective.
My original scene DID make it into the movie, but as I surmised originally, I was only seen as part of the background crowd, although I am the tallest person in the back, between the door on the left and the large window on the right. In the scene, I can be seen watching the TV, then briefly looking to my right and back. There were no close-up shots of the door so the only people who were easily recognizable were those toward the front of the bar. While not optimal, I DID make it into the movie, which was the goal of this entire experience.

While there was a lot of waiting, overall the experience was well worth it. I WILL do this again (especially for Batman 3!).



Update, December 10th, 2008:

Now that the DVD has been released (and I've gotten my copy), I can post two captures of my scene here. The first is the wide shot of the bar patrons. As noted above, I'm in the back (red arrow):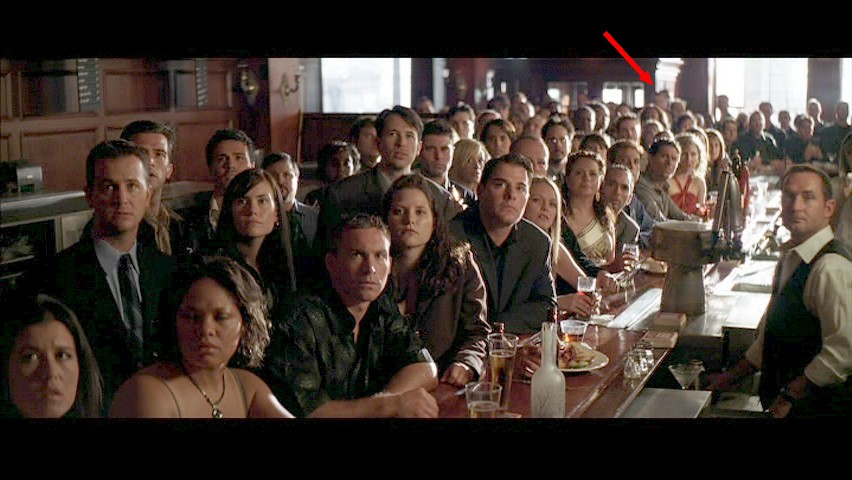 Image Copyright 2007-2008 Warner Bros. Entertainment.

And here's where the scene switched to a "close up" of some of us as we were leaving. This was where I turned and put my "beer" down, just prior to leaving the bar: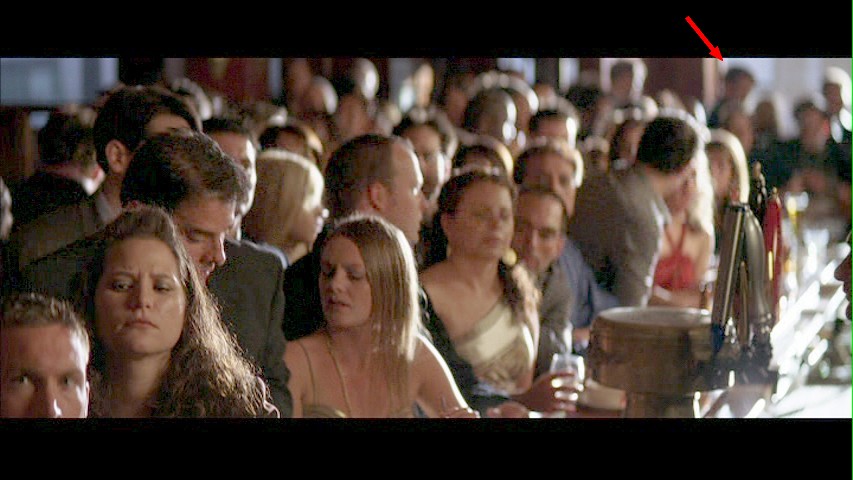 Image Copyright 2007-2008 Warner Bros. Entertainment.


In the 2-disc Special Edition, they've included the "Gotham Tonight" program, and the image I'm in (noted above) with Gordon is included in the 4th and 5th episodes on the DVD.